Syringe Dispenser-Container, CMTP 2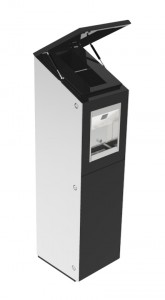 The CMTP 2 Syringe Dispenser-Container makes life easier – not just for the user, but also for community social workers and staff.
CMTP 2 facilitates the distribution of new syringe and needle kits, as well as providing secure and safe storage for used syringes, needles and other semi-hazardous waste. CMTP 2 has dual functionality – it is not only an advanced RFID-operated syringe and needle dispenser, but also an advanced waste container, which enables the secure disposal of used syringes and needles.
The CMTP 2 has an attractive, discrete design that blends in, both indoors and outdoors, in almost any environment. This high quality dispenser is made of stainless steel, powder-painted steel and aluminum. The CMTP 2 offers room on the side for sponsorship labels and logos, making sponsorship financing possible for installation and operation.