Exciting internship positions in the fall semester
At Conpleks the fingers are crossed for a more normalized everyday life despite of the COVID 19 situation, as the tradition of having interns is in danger. It means a lot to the company to host interns and create a space for learning by doing, where the interns also can test their theoretical knowledge on real tasks.
Conpleks is looking for two engineering students for the fall semester with expected start-up in September, one for software development and one for cloud development both within outdoor, mobile robots. Conpleks works with both ongoing developments of existing robots and inventing new ones, which ensures the interns busy days with exciting tasks. Furthermore, the copyrighted cloud, Conpleks Clara Cloud, continues to grow in the number of registered vehicles, users and functionalities.
Intern for cloud development
Besides trying his or her skills on all aspects from design and specification to test and documentation, the intern will be working with JavaScript development for front end and back end for the company's app and cloud solutions. To be more specific, some of tools will be Cordova and Android together with Node.js and AngularJS. In the end everything will be gathered and structured within Conpleks' agile development process, which the intern will be an active part of among other things through the continually sprint meetings.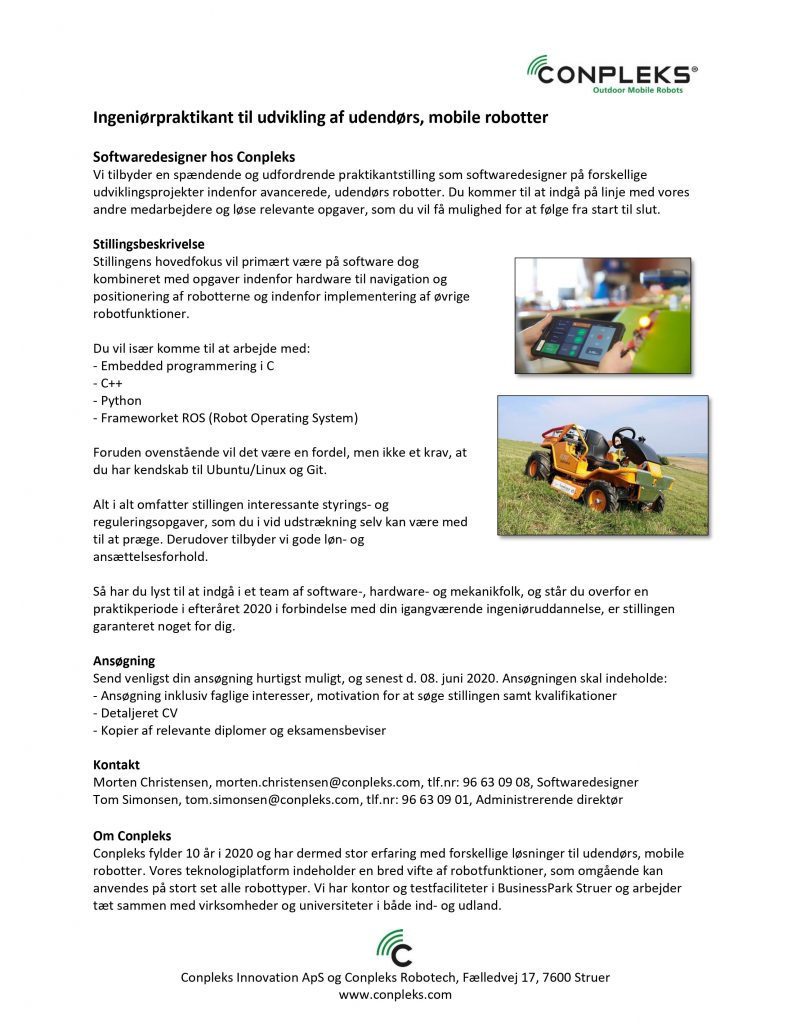 Intern for software development
The main focus for the intern, who will be working with software development, will be on controlling tasks. Additionally, there will be tasks within hardware for robot navigation and positioning and with implementing other robot functions. The work includes embedded programming in C, C++, Python and the framework ROS (Robot Operating System).
Interesting internships
Conpleks guarantees two exciting internships with a great balance between technical and academic challenges and relevant support from the dedicated and highly skilled colleagues. Besides the development of outdoor, mobile robots, the company also carries out professional R&D consultancy within software, hardware and mechanical construction. Furthermore, Conpleks participates in different research projects with both Danish and international partners.
The application deadline for both internships is 8. June 2020. For further information please see the job advertisements, which are in Danish.